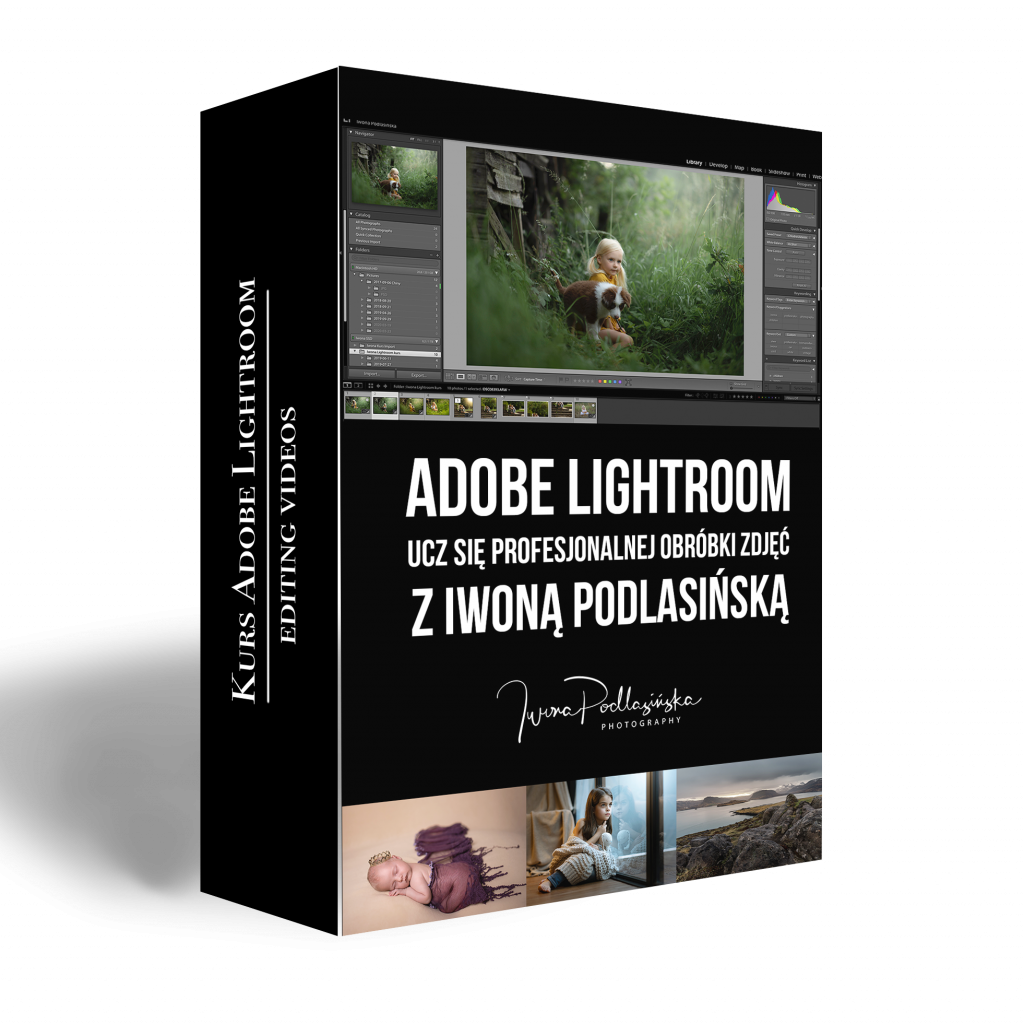 Kurs Adobe Lightroom (PL)
Pełny kurs programu Adobe Lightroom to ponad 4 godziny nauki z Iwoną.
Kurs przeznaczony jest zarówno dla osób początkujących jak i dla tych, którzy chcą pogłębić swoją wiedzę na temat obróbki zdjęć w Lightroom'ie.
Kurs składa się z 11 filmów. To ponad 4 godziny materiału. W kursie omawiam:
importowanie zdjęć do Lightroom'a
moduły Library i Develop
obrabiam przykładowe zdjęcia: plenerowe, portretowe, noworodkowe i krajobrazowe
przedstawiam podstawowe techniki obróbki zdjęć
pokazuje powiązanie z programem Photoshop
nauczysz się jak tworzyć swoje preset
jak zarządzać zdjęciami i przenosić edycję między zdjęciami
Z tego kursu dowiesz się jakie techniki faktycznie stosuję przy obróbce moich zdjęć. Przedstawię wszystko z perspektywy fotografa, który od lat korzysta z programu Lightroom.
Omawiam w nim krok po kroku jak stworzyć nowy katalog, zaimportować zdjęcia do Lightroom'a, gdzie znajdziesz wszystkie narzędzia oraz okrok po kroku wytłumaczę jak można ich użyć. W opisie filmu znajdziecie pliki do pobrania, dzięki którym możecie na bierząco testować nowo poznane techniki. Dzięki temu kursowi bez problemu opanujesz techniki post produkcji w programie Lightroom i przyspieszysz swoją pracę nad obróbką zdjęć.
What You'll Learn
1

Import zdjęć do Lightroom'a

2

Moduł Library

3

Moduł Develop

4

Przykład I: portret plenerowy

5

Przykład II: krajobraz

6

Przykład III: portret

7

Przykład IV: noworodek

8

Przykład V: synchronizacja

9

Przykład VI: merge i Photoshop

10

Przykład VII: porównywanie i edytowanie z użyciem Photoshopa

11

Eksportowanie zdjęć

12

Aktualizacja: Color Grading